Ben Bernanke and Fed in crosshairs of left and right
Fed Chairman Ben Bernanke seeks confirmation to a second term, but Capitol Hill foes Bernie Sanders and Ron Paul say the Fed and its leader mismanaged the economy.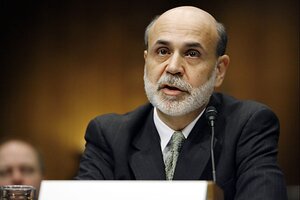 Jose Luis Magana/AP
The Federal Reserve faces attack from lawmakers on both ends of the political spectrum, as Ben Bernanke defended his nomination to a second term as Fed chairman at confirmation hearings Thursday.
Their opposition isn't likely to derail the Bernanke nomination, but it represents some of the most concerted opposition the central bank has seen in decades. And, dovetailing with the aftermath of a severe financial crisis, it could potentially result in new constraints on the Fed.
From the political left, Sen. Bernie Sanders of Vermont is refusing to back Mr. Bernanke for another term, and has put a hold on the nomination. That's a Senate procedural maneuver that makes the approval process harder. Senator Sanders, an independent, is considered politically way left of most Democrats.
On the opposite front politically, House Rep. Ron Paul (R) of Texas has a view that's way right of most Republicans: His trust in free markets and advocacy of a gold standard for the US currency prompts him to argue that the Fed shouldn't exist at all.
---