Gates: Afghanistan surge could require more than 30,000 troops
Defense Secretary Robert Gates told Congress Thursday that the Afghanistan surge could require 3,000 more support troops in addition to the 30,000 troops President Obama announced this week.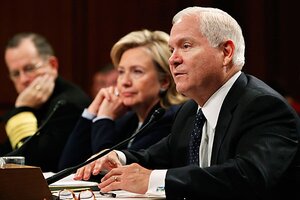 Manuel Balce Ceneta/AP
President Obama announced this week that he is deploying 30,000 additional forces to Afghanistan between now and next summer. But Robert Gates, his Pentagon chief, said today that he needs the flexibility to deploy as many as 3,000 more troops on top of that.
During testimony on Capitol Hill Thursday, Mr. Gates said he has to be able to give the battlefield commander what he needs and if that means deploying slightly more forces, he will do that.
"One of the things that I've tried to make clear consistently is that when you're looking ahead, it is impossible to foresee every need," Gates told a Senate panel reviewing the new Afghan strategy. Gates said he may need additional medical or intelligence personnel, engineers for road-clearing assistance, or other support troops.
"I have asked him for a modest amount of flexibility on that," he said.
Gates, a Republican holdover from the Bush administration who is widely respected by both parties, is credited with brokering the new strategy between the military and the White House.
Echoes of Iraq
The potential need for more support troops is reminiscent of the surge of troops in Iraq in 2007. When the plan was first rolled out, military officials said the surge of five combat brigades would be about 21,000 troops. Ultimately, however, an additional 8,000 troops were deployed in support of combat forces for a total surge of about 30,000.
---