White House jobs summit: Eight ideas to aid job growth
As the White House hosts a jobs summit Thursday, here are a range of ideas – from shorter work hours to a second stimulus – to fix the rising unemployment rate.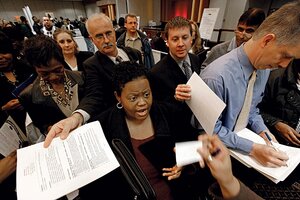 Paul Sancya/AP
For all the focus on healthcare, a different issue ranks more than twice as high on Americans' priority list: the state of the economy and job market.
That domestic priority comes into focus Thursday with a jobs summit, at which President Obama will solicit ideas on everything from worker retraining to how to create more clean-energy jobs.
The unemployment rate reached double digits in October. Next year, the jobless rate could approach the highest it's been since World War II – matching the 10.8 percent level reached in the 1982 recession, forecasters say.
In addition to Thursday's White House jobs forum with business leaders, Democratic leaders in Congress say they'll be working on a "jobs bill" early in the new year. And Republican lawmakers are warning that the Democratic plans are job killers rather than job creators.
The question is how to translate the goal of employment into reality. "We're at the bottom" after a deep recession, says James Galbraith, an economist at the University of Texas in Austin. "The risk is that we don't get off the bottom very soon."
That is a very real concern. Often after deep recessions, the recovery of consumer spending and jobs has been swift. This time, economists worry that consumers will be held back by record debt levels and the decline in their net worth caused by falling home values.
---
Follow Stories Like This
Get the Monitor stories you care about delivered to your inbox.