'Climategate': leaked emails push scientists toward transparency
The leaked emails from a British university don't undermine climate-change theory, most scientists insist. But several are calling for more transparency in the global-warming field. On Monday, climate talks begin in Copenhagen, Demark.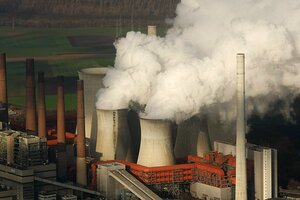 Ina Fassbender/REUTERS
As delegates for climate talks in Copenhagen, Denmark, prepare to craft the outlines of a new global-warming treaty, a controversy over the hacked e-mails of some climate researchers is triggering calls for greater transparency in the UN body that provides governments with scientific advice on the issue.
The e-mails have raised questions about the credibility of some climate researchers' work and revived criticism from those who say global warming is exaggerated. Though most scientists insist the e-mails don't undermine climate-change theory, several call for greater transparency in the field.
Measures they'd like to see range from ensuring that all scientists have access to raw data used in climate science to requiring that the assessments of the United Nations' Intergovernmental Panel on Climate Change (IPCC) appear along with something akin to a dissenting minority report.
"Climategate," as some label the controversy, concerns at least 1,000 e-mails and files leaked or hacked from computers at the University of East Anglia's Climatic Research Unit in Britain.
Many of the e-mails are innocuous. But others depict a small, influential group of scientists – several of whom work on global temperature trends over the past 1,500 years – trying to prevent skeptics of their work from gaining access to raw data used.
---