Can Congress create agencies insulated from White House control?
The US Supreme Court is considering whether an oversight board created by Congress intrudes on executive branch authority - the latest battleground in the dispute over separation of powers.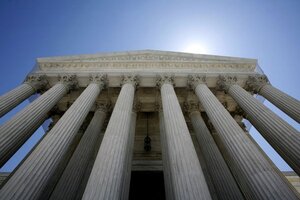 Molly Riley/Reuters
The US Supreme Court on Monday takes up a case examining the extent to which Congress can create an independent watchdog agency insulated from direct presidential control and political accountability.
At issue is whether Congress unconstitutionally intruded into executive branch authority when it created the Public Company Accounting Oversight Board (PCAOB).
The case represents the latest battleground in a long-running dispute among legal scholars over whether there should be a bright line separating presidential power from congressional power, or whether that line can sometimes be blurred when Congress seeks to create independent agencies that operate at the murky intersection between the executive branch and the legislative branch of government.
In broad terms, the case, Free Enterprise Fund v. Public Company Accounting Oversight Board, is about the structure of American government and how rigorously the Supreme Court believes that structure is to be enforced. More narrowly, the case is about a little-known accounting oversight board with some big powers.
Case began with Enron scandal
The oversight board was established in 2002 as part of the Sarbanes-Oxley Act passed in the wake of the accounting scandals at Enron and other companies. The oversight board is designed to conduct aggressive audits of publicly-traded companies. It was intended to help keep corporate officials honest and investors better apprised of a firm's financial health.
---