Massachusetts' top lawyer poised to replace Ted Kennedy
Martha Coakley won the Democratic primary Tuesday in the race to fill Ted Kennedy's Senate seat. If she succeeds in the general election, she will be the first woman senator for Massachusetts.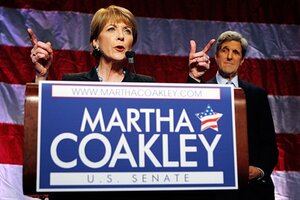 Brian Snyder/Reuters
Massachusetts Attorney General Martha Coakley (D) is poised to become the Bay State's first woman senator.
Ms. Coakley won the Democratic primary in the race to fill the US Senate seat of the late Edward Kennedy. Her victory Tuesday was by a wide margin – 19 points over her closest competitor, Rep. Michael Capuano.
While the historic importance of her potential election to the Senate has not been lost on the media or with her supporters, it's something Coakley has left largely unsaid on the campaign trail.
In accepting the Democratic nomination for the seat Tuesday, she did acknowledge the importance of her accomplishment, though only briefly.
"They said women don't have much luck in Massachusetts politics," she said. "We believed that it was quite possible that that luck was about to change."
Coakley's hesitation to discuss gender was probably an intentional campaign decision.
"She and her people recognize that when you say the first woman, you inject an abstraction into the argument," says Dan Payne, a Massachusetts-based Democratic media consultant. "That's something women's groups say and do, but most female politicians don't do that because they don't want voters to feel they're different."
Many voters didn't need Coakley to discuss her gender for it to matter to them.
---