House poised to vote on overhaul of financial regulation
The bill gives government new powers to rein in 'too big to fail' companies and to protect consumers. The House is set to vote on the financial-regulation measures Friday.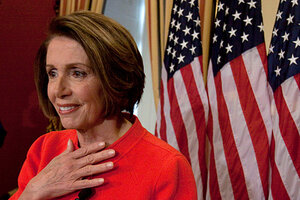 Harry Hamburg/AP
Spurred by the near collapse of the financial system in 2008, the House is set to vote Friday on the most sweeping overhaul of how Wall Street does business since the Depression-era New Deal.
The 1,279-page bill gives government new powers to rein in "too big to fail" companies that pose a systemic risk to the economy and to regulate the opaque $450 trillion derivatives market seen as the epicenter of the financial crisis. It expands federal powers to protect investors and consumers.
"The legislation, the Wall Street Reform and Consumer Protection Act, says very clearly to Wall Street: The party is over," said House Speaker Nancy Pelosi at a briefing on Thursday. "American families will no longer be at the mercy of Wall Street in terms of their jobs, their homes, their pension security, the education of their children."
Republicans, who dub the bill a "permanent bailout" and a job killer, are expected to oppose it unanimously. But the big issue in Friday's vote is whether they can combine with enough moderate Democrats to kill a centerpiece of the legislation: the creation of an independent Consumer Financial Protection Agency (CFPA) to oversee mortgages, credit cards, and "payday" lenders.
To get a bill to the floor, Democratic leaders had to cut deals with critics at both ends of their caucus. After boycotting the vote on the bill in the Financial Services Committee, the Congressional Black Caucus prevailed on leaders to add to the bill $4 billion for emergency housing relief, from funds from the Troubled Asset Relief Program (TARP).
---