Second stimulus? US House passes $154 billion jobs bill.
The jobs bill would provide funding for job training and transportation projects. The Senate has yet to vote on the legislation.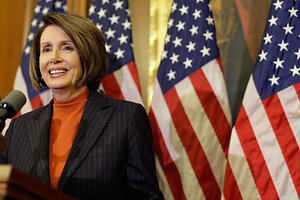 Alex Brandon/AP
With America's unemployment rate in double digits, the US House on Wednesday narrowly passed a $154 billion jobs bill. The vote was 217 to 212.
The package is not expected to be taken up by the Senate until early next year. But if the legislation is ultimately passed into law, it may produce funding for worker training in high-growth or emerging industries. It could also provide money for municipalities to hire more police and firefighters, and it could create a host of other programs designed to put Americans back to work.
Billions would probably go toward highway construction and mass transit. The House legislation calls for $500 million for airport construction and $800 million for Amtrak.
"It will create jobs and help lower the unemployment rate to be less than it would have been without the spending," says Phineas Baxandall, a senior analyst for tax and budget policy at the US Public Interest Research Group (US PIRG) in Boston.
The total spending in the bill could amount to almost 1 percent of US gross domestic product. However, the total is considerably less than the $780 billion stimulus bill passed earlier this year.
---