Ben Nelson backs healthcare reform bill, Dems see finish line
Sen. Ben Nelson of Nebraska announced his support of the Senate healthcare reform bill Saturday. That gives Democrats the 60 votes they need to stop a Republican filibuster.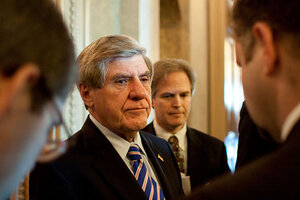 Harry Hamburg/AP/File
The last Democratic holdout in the Senate against healthcare reform, Sen. Ben Nelson (D) of Nebraska, said Saturday that he is now prepared to vote for the bill.
That would appear to give Senate Democrats the 60 votes they need to end a Republican filibuster and, after weeks of negotiation, finally pass their version of healthcare reform. Reaching 60 votes on a bill of such complexity, Senator Nelson said, "is an accomplishment of historic proportion."
In a Saturday morning press conference, he said he thought the Senate bill would be a landmark piece of legislation to compare with the creation of Social Security or the passage of the Civil Rights Act last century.
The breakthrough occurred after hours of meetings yesterday between Nelson and Senate majority leader Harry Reid. The main sticking point was abortion. Nelson wanted to ensure that no federal funds were used to pay for abortions. Details of the deal between Senator Reid and Nelson are not yet available, but Reid did release the text of the 2,074-page bill Saturday in order to try to meet a self-imposed Christmas deadline for passing it.
Though Nelson has now thrown his support behind the Senate bill, he acknowledged that he would withdraw his support if meetings between the House and Senate change any of the provisions for which he negotiated.
Obama sets the tone
---