Parker Griffith party switch: Will other Democrats follow suit?
Rep. Parker Griffith of Alabama announced Tuesday he is switching parties. That could put pressure on other conservative Democrats, especially in the Deep South, to jump ship.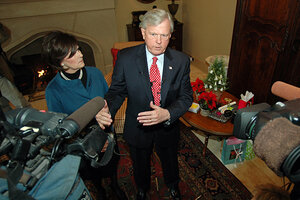 Jay Reeves/AP
Alabama Rep. Parker Griffith's surprise switch of parties on Tuesday shows how quickly electoral dynamics are shifting under the weight of massive social and economic policy gambits in Washington.
In fact, Mr. Griffith's defection could put pressure on other conservative and even moderate Democrats, especially in the Deep South, to jump ship to save their seats. They've been encountering backlash from the public against a Democrat-controlled progressive agenda in Washington.
Griffith took over the seat of retiring congressman Robert "Bud" Cramer (D) last year. Now, the freshman lawmaker is angry about being marginalized in the Democratic power structure. An oncologist, Griffith voted against healthcare reform, as well as against the stimulus package and cap-and-trade legislation.
As Democrats reach for victory on big legislation along party lines, that is exposing their flank in moderate and conservative districts. Griffith's decision to switch parties indicates a pragmatic approach to elections next year, and it shows how the tarnished Republican brand may be regaining some of its gloss.
"This has to be a calculation that it's going to be easier for a congressman to have a career as a Republican than a Democrat, even if it means joining the minority party, [and] that really is quite astonishing," says Merle Black, a political science professor at Emory University in Atlanta and author of "Divided America: The Ferocious Power Struggle in American Politics." "The result is you might see more changes or challenges within the Deep South from some of these districts where Democrats think it's easier to win election as a Republican."
---
Follow Stories Like This
Get the Monitor stories you care about delivered to your inbox.