New Jersey approval of gay-marriage bill seen as uphill fight
The debate in New Jersey is the first legislative fight over gay marriage in 2010 following a year in which both gay-rights groups and opponents saw victories. The state Senate is set to vote on the bill Thursday.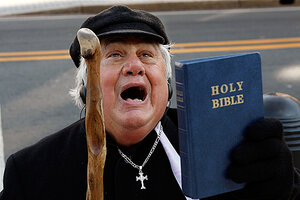 Mel Evans/AP
The nationwide battle over same-sex marriage shifts to Trenton, N.J., on Thursday. Activists on both sides of the issue have descended on the New Jersey State House, where senators are set to vote on a highly anticipated gay-marriage bill.
Even though Democrats control the state's Senate, gay-rights advocates face an uphill battle to make New Jersey the sixth state allowing same-sex marriage, according to early reports. Most expect a heated debate to precede the vote during the session that begins at 2 p.m., Eastern time. Live audio is available here.
Gay-rights groups have long been pressing Garden State lawmakers to take up the issue, but the impending Jan. 19 departure of Democratic Gov. Jon Corzine has added urgency to their cause. Governor Corzine says he'll sign a gay-marriage bill, while his replacement, Republican Chris Christie, opposes same-sex marriage.
The New Jersey General Assembly would vote on the bill next Monday if it passes the Senate.
---