Bailout aftermath: Obama proposes fee on big banks
To recoup taxpayer money used in the bailout of financial firms, Obama on Thursday outlined a fee that big banks would have to pay for 10 years or more.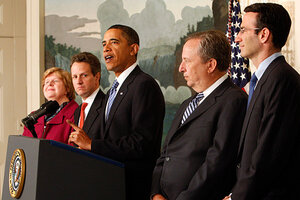 Jim Young/REUTERS
President Obama wants Wall Street and the largest banks to keep paying for the financial assistance they received in the past two years – even though many of them have already repaid their loans and interest.
On Thursday, Mr. Obama proposed a "Financial Crisis Responsibility Fee" that would be imposed on some of the financial underpinnings of the largest firms – many of which are preparing to give eye-opening bonuses for executives and employees.
According to the White House, the fee would be in place for 10 years or more, depending on how long it takes to repay money owed to the Troubled Asset Relief Program (TARP). If Obama's plan is adopted, the White House says, 60 percent of the revenue will come from the 10 largest financial firms.
"My commitment is to recover every single dime the American people are owed. And my determination to achieve this goal is only heightened when I see reports of massive profits and obscene bonuses at some of the very firms who owe their continued existence to the American people – folks who have not been made whole and who continue to face real hardship in this recession," Obama said in a statement midday Thursday.
The proposed fee on banks is targeted to recover some $117 billion in TARP losses. But most of those losses have come from institutions that would not be taxed – including General Motors, Chrysler, Fannie Mae, Freddie Mac, and AIG.
---