In Haiti earthquake response, Bush distances himself from Cheney
Former Vice President Dick Cheney has been the Obama administration's chief critic, often fueling talk show hosts like Rush Limbaugh. But by agreeing to help President Obama raise money for victims of the Haiti earthquake, George W. Bush is playing by more genteel political rules.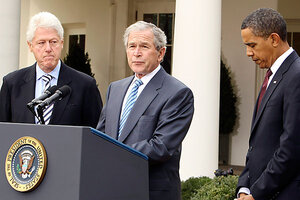 Larry Downing / Reuters
Former President George W. Bush this weekend boldly underlined the different paths that he and his former vice president, Dick Cheney, have taken since leaving office last year.
With every appearance of earnest goodwill, Mr. Bush has returned to Washington along with his predecessor, former President Bill Clinton, to help Mr. Obama raise money for victims of Haiti earthquake.
On Saturday, Bush appeared with Obama and Mr. Clinton in the Rose Garden, and on Sunday he and Clinton spoke with the Sunday morning talk shows.
He spoke of Americans' enduring charity, his own much-maligned experiences in the hurricane Katrina recovery effort, and he refused to take the bait cast by commentator Rush Limbaugh, who derided any US aid for Haiti as a waste of money.
While former Vice President Cheney has taken every opportunity to chastise the Obama administration, saying Obama's antiterror policies have made America less safe, Bush has stayed resolutely silent until this moment. And now, he is winning some of the national praise that he had lost by the end of his term by putting politics aside.
---