Campaign finance ruling: Can Congress do anything?
The Supreme Court's campaign finance ruling was based on the US Constitution. This makes it particularly hard for Congress to do anything but modify campaign finance law – public disclosure provisions, for example.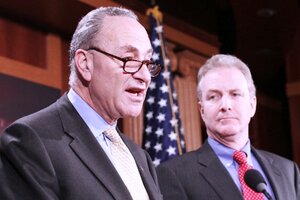 Lauren Victoria Burke/AP
While many Republicans on Capitol Hill hailed this week's Supreme Court 5-to-4 decision striking down restrictions on corporate spending on political campaigns, Democrats are ramping up measures to curb its impact.

For majority Democrats, it's yet another urgent agenda item heading into a charged election season.

"This disastrous decision paves the way for free and unlimited special-interest spending in our elections," said Sen. Charles Schumer (D) of New York at a briefing with Rep. Chris Van Hollen (D) of Maryland on Thursday. "We will not let this decision go unchallenged,"

The two lawmakers chair their party's campaign organizations in the Senate and House. They aim "to reimplement the ban on corporate spending or modify it in a significant way," Senator Schumer said.
Lawmakers huddled with the White House
House and Senate teams met with the White House counsel's office Friday to work out proposals. The Senate Rules and Administration Committee is planning a hearing on these approaches Feb. 2.

One fix under consideration is to pass legislation limiting contributions or expenditures for companies that fit a certain category, such as corporations that retain lobbyists, do business with the federal government, or are a recipient of significant government aid, such as American International Group, Inc. (AIG) or auto companies.

Another set of fixes aim to not ban but to deter corporate political activity.
---