California governor's race: All about the money?
Personal wealth is both an asset and drawback for GOP candidates in the California governor's race. Republican billionaire Meg Whitman has put another $20 million into her campaign.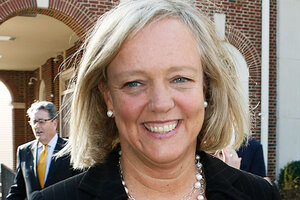 Tim Shaffer/Reuters/File
With California's gubernatorial primaries months away and candidates still vague about their campaign platforms, wealth is becoming a key factor in the race.
Last week, GOP frontrunner Meg Whitman threw another $20 million to her campaign to win the Republican primary slated for June 8. In doing so, the former CEO of eBay passed airline mogul Al Checchi's record for self-contributions to California governor races. Mr. Checchi spent about $38.9 million of his own money in his bid for the Democratic gubernatorial primary in 1998. Ms. Whitman's personal contributions to her campaign now totals $39 million.
But all that spending may be putting some voters off.
"Millionaires and billionaires … that's all we ever get around this state," says housewife Joan Smiley, sitting at a local coffee shop and reading a newspaper report about Whitman's cash infusion.
Gov. Arnold Schwarzenegger (R) also put his Hollywood millions into winning the governorship in 2003. The latest Field Poll shows his ratings – and state fortunes – to be worse than when he took over.
"I just don't want this state to get another wealthy, do-nothing, incompetent at the top," says Ms. Smiley.
---
Follow Stories Like This
Get the Monitor stories you care about delivered to your inbox.