Senate goes back to the drawing board on campaign finance
A Senate committee on Tuesday discussed how to limit the US Supreme Court campaign-finance ruling that opened elections to corporate ads. One suggestion: a constitutional amendment.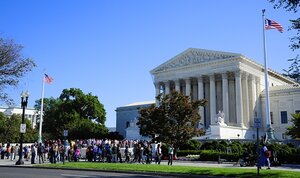 Karen Bleier/AFP
A key Senate committee took its first close look on Tuesday at a possible legislative response to a recent US Supreme Court decision that opens the way for unrestricted independent corporate advertising during elections.
The Senate Committee on Rules and Administration is considering several proposals, including a call by some lawmakers to write an explicit restriction into the First Amendment limiting corporate political speech.
"I think we need a constitutional amendment to make clear that corporations do not have the same free speech rights as individuals," Sen. John Kerry (D) of Massachusetts told the panel.
He said the time for comprehensive campaign-finance reforms had arrived. "The government should stop tinkering around the edges of a system that is broken beyond repair," Senator Kerry said.
Debate over corporate campaigning
The comments come amid a continuing national debate over the Supreme Court's Jan. 21 decision that corporations have a constitutional right to spend their money on broadcast advertisements to make a political point during election season.
President Obama raised the issue during his State of the Union address last week, accusing the majority justices of reversing "a century of law to open the floodgates for special interests – including foreign corporations – to spend without limit in our elections."
---