Ending 'don't ask, don't tell' seems inevitable. But not soon.
US society and the Pentagon are moving toward ending the ban on gays serving openly in the military. But powerful lawmakers want to keep the 1993 law, and it may be other conservatives who convince them that times have changed.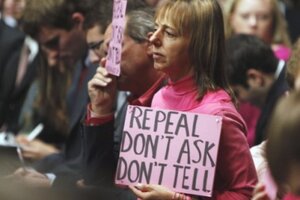 Manuel Balce Ceneta/AP
The end of "don't ask, don't tell" in the US military seems inevitable. US society – especially among younger Americans – is moving in that direction. And almost all US allies accept soldiers without discriminating on the basis of sexual orientation.
But ending the policy of forcing openly gay men and women out of the armed services won't come soon, and it won't come without a major political fight. That was clear in the recent Senate hearing where Defense Secretary Robert Gates and Joint Chiefs of Staff Chairman Adm. Mike Mullen – both of whom favor ending DADT – took heat from Republican Senators.
With 41 Senators now, the GOP could block any legislative effort to overturn the policy, which became law in 1993 and therefore would take congressional action to change. And President Obama – focused on jobs and the economy, and with his congressional clout likely to wane even further with this fall's elections – is unlikely to spend any more political capital on the issue.
The push from gay rights activists and liberal organizations is to be expected. But more relevant to ending DADT may be the respected voices on the right now speaking out.
General Powell changed his mind
Retired Army Gen. Colin L. Powell, who was instrumental in crafting what was seen as a compromise in 1993, now says lifting the ban is "the right thing to do."
---