John McCain to face formidable foe in Arizona GOP primary
Former Congressman J.D. Hayworth is challenging Sen. John McCain in Arizona's GOP primary – and some state Republicans are calling the contest 'payback' for McCain's poor showing in the 2008 presidential race and his maverick voting record.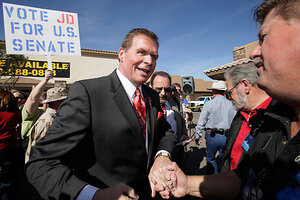 Ross D. Franklin/AP
John McCain's fight to keep his US Senate seat for a fifth term is shaping up to become what some Arizona Republicans are calling a "blood feud" between two factions of their party.
J.D. Hayworth, a former congressman and a conservative radio host, on Monday announced he would run against Senator McCain in the Republican primary in August. Although McCain faces another GOP challenger – businessman Jim Deakin – Mr. Hayworth is considered McCain's most potent threat. He is the best known of McCain's opponents and is best positioned to tap into voter anger that has simmered during the 15 months since McCain lost the presidential race to Democrat Barack Obama, say local political analysts.
"For the diehards, it's a long time coming. It's payback," says John Ellinwood, a writer for Gila Courier, a conservative website covering Arizona politics. "The perception among conservatives is that he did not fight hard enough" in 2008.
Many in Arizona expect Hayworth to be the more personable candidate – comfortable at the podium as well as listening to voters on the street. McCain's image in his home state, by contrast, is that he is unfriendly and interacts with the local Republican base only during election cycles.
---