David Paterson drops out of New York governor's race
Dogged by a scandal involving a close aide, Gov. David Paterson dropped out of the New York governor's race Friday. However, he vowed to serve out his term and swore he had not abused his office 'not now, not ever.'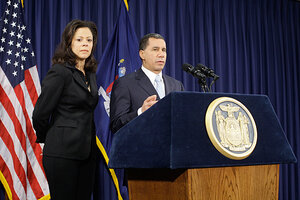 Richard Drew/AP
Buffeted by a burgeoning scandal, New York Gov. David Paterson (D) announced he would not be running for office this November.
"There are times in politics not to strive for public service but to step back," said Governor Paterson at a short news conference. "It is increasingly clear I cannot run for office and manage the state full time."
However, Paterson made it clear he was not resigning, but planned to serve out the 308 days left in his term "fighting for New York."
Paterson's decision to withdraw from the race opens the way for Attorney General Andrew Cuomo to run practically unopposed for the Democratic nomination for the Empire State's highest office. But it also likely means the end of the political road for Paterson, whose family has a long history in the state's politics. (For Monitor analysis of Paterson's decision to drop his election bid, see here.)
Paterson denied that his decision not to run was a result of a scandal involving a close aide, who was accused of domestic violence, and the subsequent involvement of Paterson and the state police. Rather, he claimed there was "an accumulation of obstacles that obfuscated me from bringing my message to the public." (For Monitor coverage of the scandal, see here.)
---
Follow Stories Like This
Get the Monitor stories you care about delivered to your inbox.