Will Obama's healthcare plan reduce costs?
Congress and ordinary Americans debate whether Obama's healthcare plan will reduce costs or increase them.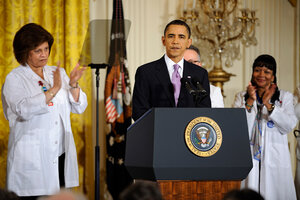 NEWSCOM
As President Obama tries this week to put his healthcare plan on a fast track toward passage, he's still struggling to persuade Americans that the plan will reduce costs.
"My proposal would bring down the cost of healthcare for millions – families, businesses, and the federal government," Mr. Obama said Wednesday in making his pitch. "Let's get it done."
But after a year in which Democrats have been debating and refining reform plans, sometimes with Republican input, the cost savings that Obama touts remain a matter of sharp debate.
While the president says that his numbers add up to real progress against runaway medical costs, his Republican critics bluntly say the opposite.
"This bill adds a new healthcare entitlement when we have no idea how to pay for the entitlements we already have," Rep. Paul Ryan (R) of Wisconsin said at a healthcare summit Obama convened last week.
Who's right? Before diving into some of the numbers, it's worth noting that American voters appear to have concluded that costs are a very big concern. Most Americans like the core Democratic ideas, but a majority also worries that the reforms won't tame fast-rising costs.
---