Eric Massa's early exit from House may ease healthcare's passage
New York Rep. Eric Massa will resign Monday afternoon, rather than at the end of his term, his office said Friday. The House ethics committee was investigating the freshman congressman.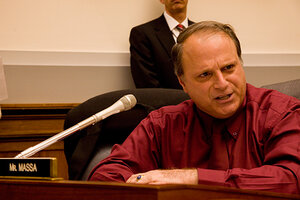 Ryan Kelly/Congressional Quarterly/Newscom/File
The planned resignation of Rep. Eric Massa (D) of New York on Monday may ultimately help fulfill President Obama's goal of passing healthcare reform soon.
The freshman congressman voted against the bill when it passed the House in November by the narrow margin of 220 to 215. Mr. Massa was one of 39 Democrats to vote no.
He said he favored a single-payer healthcare system, and felt the House bill did not go far enough to bring down healthcare costs. Massa's departure will eliminate one of the "no" votes that House Speaker Nancy Pelosi needs to overcome as she seeks support to pass the Senate version of reform.
IN PICTURES: Retiring House Democrats
Massa is leaving Congress sooner than he had originally planned – at 5 p.m. on Monday, his office confirmed Friday.
On Wednesday, he had announced he would leave the House when his term ends, citing health problems. But the House ethics committee has confirmed that it was investigating Massa. It has been widely reported that he allegedly sexually harassed a male staff member, a charge Massa denies.
---