Democrats' full-court press on healthcare reform
For scores of lawmakers, approving the Senate healthcare reform bill and subsequent 'fixes' carries considerable political risk.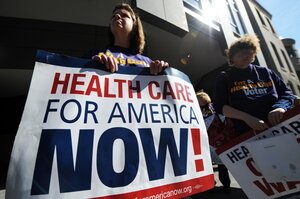 Newscom
The steady stream of top Democrats in and out of House Speaker Nancy Pelosi's office Tuesday was the latest signal of a full-court press to get a majority of Democrats on board healthcare reform.
That means passing the Senate version of the bill and a package of "fixes" – still being negotiated – that can clear both the House and Senate.
It's a heavy lift that will require potentially high-risk votes from two groups in the House Democratic caucus.
One is the 37 Democrats (still in the House) who voted "no" on the House healthcare reform bill in November 2009 and might flip to "yes."
The other are the 42 Democrats who voted for the bill, but only after leadership allowed an amendment that included tough restrictions on the use of federal funds to pay for abortion services.
The sponsor of the abortion language, Rep. Bart Stupak (D) of Michigan, says that there are a dozen or so members of this group ready to flip to "no" unless they have assurances that abortion will be part of the fixes passed by both House and Senate.
Abortion still a sticking point
"It is a serious issue that obviously confronts the Congress that has to be resolved in a way consistent with our opportunity to pass healthcare for all Americans," said House majority leader Steny Hoyer in a press briefing on Tuesday, commenting on the status of negotiations over the abortion language.
---