Bart Stupak vows 'yes' in health care vote. What comes next?
Rep. Bark Stupak of Michigan, who led a group of anti-abortion Democrats opposed to the health care bill, has promised a 'yes' on health care vote. Passage tonight now looks certain. Then what?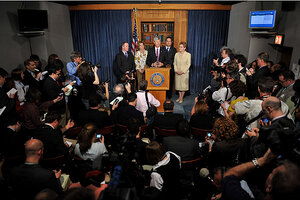 Kevin Dietsch/UPI
On a day when Capitol Hill had as much drama – and perhaps even as much entertainment value – as March Madness, Rep. Bart Stupak (D) of Michigan appeared to hit the buzzer-beater for the Democrats on the health care vote.
Congressman Stupak and a handful of other anti-abortion Democrats agreed Sunday to vote in favor of health care reform, almost certainly giving the bill the votes it needs to pass the House of Representatives later in the day.
Stupak and his colleagues agreed to change their votes when President Obama offered to sign an executive order to affirm that that no federal funds be used for abortions under the new health care reform bill.
The deal means the bill will almost certainly be passed later tonight. Obama is so confident of a positive outcome that he announced that he would address the American people after the vote.
Since the Senate has already passed the bill, it is possible that Obama could sign the health care bill into law tonight. If he does not, he would likely sign it Monday. Once the bill is signed, many provisions will take years to kick in. (Click here are a rundown of the timetable.)
---