At Washington's immigration reform march, a warning from Latinos
Immigrants and activists turned out by the tens of thousands to urge President Obama to keep his campaign promises on immigration reform.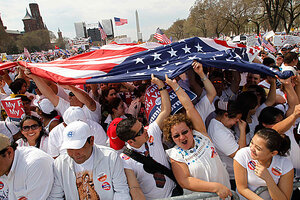 Jason Reed/Reuters
From the tens of thousands who rallied for comprehensive immigration reform in Washington on Sunday, the message to President Obama and the Democrats was clear: Make us a priority or don't count on us in November elections.
The activists and immigrants traveled from around the country and converged on the National Mall, blocks from where House Democrats worked feverishly to secure last-minute votes for Mr. Obama's landmark healthcare overhaul bill. Waving American flags and chanting Obama's campaign slogan "Si se puede," they called for legislation that would give 12 million immigrants currently residing in the United States illegally a pathway to citizenship.
Obama had promised during his campaign to make comprehensive immigration reform a priority in his first year – a promise he reiterated last Thursday to Rep. Luis Gutierrez in exchange for his vote on the healthcare reform bill and again on Sunday to the crowd assembled at the Mall via a video address shown on giant screens.
"I have always pledged to be your partner as we work to fix our broken immigration system, and that's a commitment that I reaffirm today," he said.
But some demonstrators, like Rigoberto Rodriguez, a Chicagoan who voted for Obama and the Democrats in 2008, were disappointed and frustrated by Obama's lack of action on immigration.
"If he doesn't keep his word, we're not going to vote. He promised he would reform immigration. If there's not reform, we won't support him," he said.
The march's leadership echoed this message at a panel discussion with reporters last week, when they released a new poll by Democratic pollster Sergio Bendixen.
---