Health care bill victory: Obama's historic moment
With House passage of the health care bill late Sunday, President Obama has succeeded where presidents going back decades before him have failed. But it was a hard-fought victory, costing him dearly in public approval and political capital.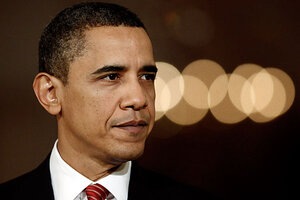 Gerald Herbert/AP
Barack Obama has reached his historic moment.
After more than a year of heated debate, backroom maneuvers, and pitched partisan wrangling, President Obama stands on the verge of enacting comprehensive reform of the American healthcare system.
The House Democrats' passage of reform legislation Sunday night means Mr. Obama will have succeeded where presidents going back decades before him have failed, setting the stage for the biggest expansion of the American social safety net in nearly 50 years.
A soured public, a narrowed agenda
But the cost to Obama has been profound. He began his presidency 14 months ago with sky-high approval ratings of 70 percent and a big, ambitious agenda that began with a record economic stimulus package, then turned quickly to healthcare. Climate change and financial regulatory reform stood next in line. Obama's original goal was to complete healthcare last summer, but the road got so bogged down in a fruitless effort at bipartisanship – and a fierce conservative backlash – he was forced to go it alone with only Democratic votes.
Obama's job approval now hovers just below 50 percent. And while his hard-fought victory on health reform will give the president and his Democratic allies a boost of confidence going forward, they have burned up so much political capital that analysts see little room for more major initiatives anytime soon.
"If the administration is wise, it will understand that with the possible exception of financial regulatory reform, they've shot their wad for this Congress," says William Galston, a former policy adviser to President Bill Clinton and a senior fellow at the Brookings Institution.
---