Planned Sarah Palin CSU speech stirs California protest
Students and other critics want to know if Sarah Palin will be paid $100,000 or more for her CSU speech. Is the state university – part of California government – obliged to reveal the confidential contract?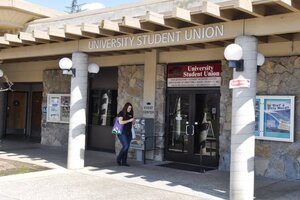 Newscom
A controversy is erupting over Sarah Palin's June speaking engagement at a campus of California State University.
A student protest group and other critics want the university to reveal how much they're paying her, which they suspect might be more than $100,000. A professor has started a Facebook gripe group. And a state senator is pressuring university officials to disclose Ms. Palin's compensation or be prosecuted under state law.
The CSU speech, held at the Stanislaus campus in Turlock, will celebrate the university's 50th year. CSU officials have publicly stated they cannot release Palin's compensation due to a confidentiality term in her contract. But Sen. Leland Yee (D) of San Francisco, who chairs of the committee on public records and open meeting laws, says the public – including students – have a legal right to the information.
The incident has ignited debate over the role of university speakers and free speech.
Controversial speakers stir the pot
---