Blumenthal shows why we're still fighting the Vietnam War
Decades after the Vietnam War, the question haunts many men of the baby-boom generation, including Richard Blumenthal: 'What did you do in the war?'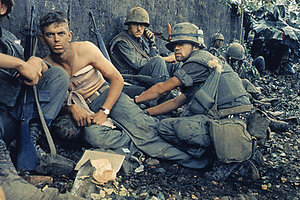 Newscom
"If you can remember the 60s, you weren't really there," is a laugh line attributed to comedian Robin Williams (or maybe it was psychedelic rocker Paul Kantner of the Jefferson Airplane). But of course, it's not true.
For one thing, the Vietnam War – like the Civil War – probably won't be over until the last vet checks out. And even then, it'll keep being argued by the remnant of the baby-boom generation. For men especially, the question remains: "What did you do in the war?"
That's happening now with the flap over Connecticut Attorney General Richard Blumenthal's occasional assertion that he had served in Vietnam as a US Marine. In fact, as the New York Times pointed out in a controversial article this week, Mr. Blumenthal had gotten several deferments and then – when his draft board was closing in – joined a Marine Corps Reserve unit that kept him stateside.
Blumenthal – running for the US Senate – has since acknowledged that he misspoke, and his defenders point out that he usually described his military service as "during the Vietnam era." At the same time, there is no evidence that he ever tried to correct the newspaper and magazine articles that mistakenly described him as a Vietnam vet, largely because that was the impression he had left.
---