Joe Sestak job offer? White House says it did nothing wrong.
The GOP isn't buying the White House assertion that it offered Rep. Joe Sestak only an unpaid position on an advisory board if he'd drop his effort to unseat Pennsylvania's Sen. Arlen Specter.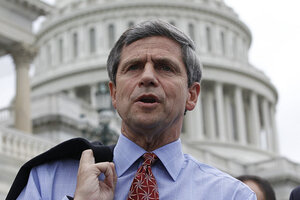 Charles Dharapak/AP
After months of speculation, the White House has released an explanation of its effort to lure Rep. Joe Sestak (D) of Pennsylvania away from running for the US Senate.
The two-page memo from White House counsel Robert Bauer, issued Friday, states that White House chief of staff Rahm Emanuel had enlisted former President Bill Clinton to approach Congressman Sestak last summer to discuss the possibility of unpaid service on a presidential advisory board, while retaining his seat in the House.
In his own statement, Sestak laid out the same scenario. "I said no," he said of the advisory board offer.
The releases provide an embarrassing peek into White House political maneuverings, months after Sestak himself revealed in a Philadelphia TV interview that the White House had made him an offer designed to steer him away from challenging Sen. Arlen Specter (D) in the Democratic primary.
The White House cared about preventing a primary challenge against Senator Specter, because it had promised Specter full support for his 2010 reelection campaign when it persuaded him to jump from the Republican Party to the Democratic Party in April 2009. Specter's party switch gave the Democrats their 60th Senate seat – a filibuster-proof majority.
---