Obama speech on BP oil spill a call to action for clean energy
Obama's speech Tuesday night on the BP oil spill gave the president a platform to urge a 'national mission' to create a 'clean energy future.' The address was long on big picture and short on detail.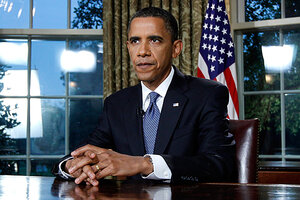 Alex Brandon/AP
Within days of Barack Obama's election as president, Chief of Staff Rahm Emanuel memorably announced Rule No. 1: "Never allow a crisis to go to waste. They are opportunities to do big things."
In late 2008, the crisis was economic. Now it is environmental, as the estimated rate of oil flow from a damaged well in the Gulf of Mexico has once again been ratcheted upward. President Obama did not use the word "opportunity" in his Oval Office address Tuesday night on the Gulf disaster, but he conveyed that meaning as he spoke of America's century-long "addiction" to fossil fuels.
"The tragedy unfolding on our coast is the most painful and powerful reminder yet that the time to embrace a clean energy future is now," Mr. Obama said somberly. "Now is the moment for this generation to embark on a national mission to unleash America's innovation and seize control of our own destiny."
IN PICTURES: The Gulf oil spill's impact on nature
Comprehensive energy and climate-change reform represented a key element of Obama's agenda when he ran for president, but it took a back seat to health-care reform in his first year. With Republicans sensing their own opportunity – major gains in the fall midterm elections – and with Democrats fearful of taking risky votes, now would not seem to be the time to push another major reform through Congress. But Obama showed with his passage of health reform that he is capable of muscling through legislation on an issue that has long defied comprehensive action.
---