Elena Kagan shows off sense of humor in confirmation hearings
Elena Kagan is as guarded as any other Supreme Court nominee about her views on specific cases. But she is winning over senators anyway – by drawing giggles, laughs and even some outright guffaws from the lawmakers.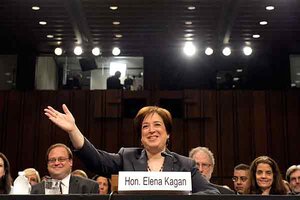 Susan Walsh/AP
She is smart. She is learned in the law. And she has the ability to function well under extreme pressure.
These are traits that helped Elena Kagan navigate the pitfalls of six years as dean of Harvard Law School and the past year as the Obama Administration's top lawyer at the US Supreme Court.
But there's another quality – a gift – that is on full display during her Supreme Court confirmation hearings this week.
Kagan is funny.
IN PICTURES: Notable women in US politics
And not just clever-witty, either. Sometimes she is laugh-out-loud delightful.
Kagan brought the house down during an exchange on Tuesday with Sen. Lindsey Graham. The South Carolina Republican was about to ask Kagan whether terrorists like the Christmas Day bomber in Detroit should be given Miranda warnings before being questioned for intelligence information.
"Where were you on Christmas Day?" Graham asked, setting up his line of questioning.
Kagan could see where he was headed and attempted to dodge the question. "That is an undecided legal issue," she said.
---