Why Whitman and Brown, tied in California, won't talk issues
With the race for California governor in a virtual tie, Meg Whitman and Jerry Brown seem more interested in bashing each other than fixing the state's problems, analysts say.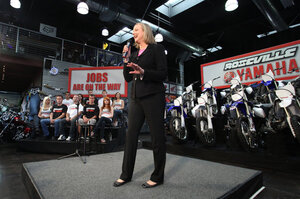 Rich Pedroncelli/AP
Republican Meg Whitman and Democrat Jerry Brown are effectively tied in the race for California governor, according to the latest Field Poll. But what is defining the race at the moment, political analysts say, is both candidates' refusal to speak about what they would do in office.
"While tens of millions of dollars are being spent on their duel, with even heavier expenditures looming, virtually none of their campaign effluent is telling us what either would do as governor six months hence," writes the leading political columnist in the state, Dan Walters, in the Sacramento Bee.
"So far, it's been a political version of a squabble between two nursery schoolers over who touched the other first. Whitman's TV ads portray Brown as an over-the-hill hippie who failed in his first stint as governor while he and his surrogates picture her as a heartless and clueless businesswoman trying to buy the election."
Analysts agree the political back-and-forth is making voters angry in a state looking for answers to its struggling economy, 12.5 percent unemployment, unbalanced state budget, failing public education system, crumbling highways, and looming water crisis.
"Every poll says people want them to talk about issues that matter to them," says Barbara O'Connor, director of the Institute for the Study of Politics and Media at Sacramento State University. "Part of it is thirty-second-soundbite-driven politics. Part of it is not wanting to say anything that will offend a subgroup. The Field poll is a perfectly good reason to launch a discussion on changing the political narrative."
---