Shirley Sherrod: casualty of escalating 'tea party'-NAACP race spat?
Shirley Sherrod was forced to resign from her Agriculture Department post for comments in a video posted online that shows she discriminated against a white farmer, conservatives say. The video makes Shirley Sherrod the newest focal point of a race-baiting feud between the left and right.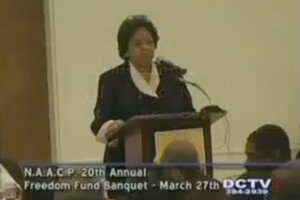 YouTube
Shirley Sherrod has become the latest face to symbolize a summer of mounting racial discontent.
Ms. Sherrod, who is the US Department of Agriculture's rural development director in Georgia, was forced to resign Monday when a four-month-old video surfaced online, spawning claims that she discriminated against a white farmer.
In the video, Sherrod addresses an NAACP awards dinner, saying that she did not give the white farmer asking for her help "the full force of what I could do."
The video – an edited, 2-1/2 minute excerpt from the speech – was released by conservative web publisher Andrew Breitbart and appears to be part of an escalating feud between ideologues on the left and right, with each accusing the other of being racist.
Moreover, the hasty demand for Sherrod's resignation – Sherrod says she had to pull over to the side of the road Monday afternoon and tender her resignation via her BlackBerry – hints at the effects of what's become a protracted media war, where aggressive outlets find that their potshots can cause heads to roll.
---