Ethics charges against Maxine Waters add to Democrats' woes
Rep. Maxine Waters of California is the second Democrat in two weeks to face a trial over alleged ethics violations. Republicans will use the charges to try to gain ground in midterm elections.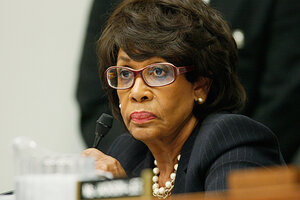 Charles Dharapak/AP/File
The House ethics committee set up a second panel Monday in as many weeks for the purpose of putting a member of Congress on public trial.
First was Rep. Charles Rangel (D) of New York, accused of tax evasion and campaign violations. Now Rep. Maxine Waters (D) of California faces trial for allegedly steering federal funds toward a bank with connections to her husband.
The prospect of two fall trials of House Democrats – both of them prominent members of the Congressional Black Caucus – is pure poison to the Democratic effort to minimize expected losses in the Nov. 2 midterm elections.
IN PICTURES: Ethically challenged Congressmen
In both cases, party leaders wish the members in question would reach a settlement before their cases go to trial, but both have said that they wish to clear their names in public, not agree to fault in a plea deal.
---