Social Security to pay out more in 2010 than it takes in
Social Security intake from tax revenue will fall below program costs this year. In annual reports on the fiscal health of Social Security and Medicare, Obama administration cites 'work left to do.'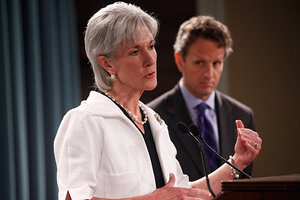 Charles Dharapak/AP
The Obama administration accentuated some positive news in its annual status report on Medicare and Social Security, but acknowledged that tough work remains to put both programs on sound financial footing.
The upbeat news: The sweeping health-care reform law enacted earlier this year is expected to improve the financial outlook for Medicare, extending the program's solvency by about 12 years, said the Medicare trustees.
"These are very, very substantial improvements," said Treasury Secretary Tim Geithner, who spoke with other Obama Cabinet officials and co-trustees in releasing the reports Thursday.
Yet the long-term challenges facing Medicare and Social Security remain in place, the reports found.
Key conclusions from the trustees:
• Social Security's combined trust funds (for old-age and disability benefits) will be exhausted in 2037, an estimate that's the same as in last year's report. At that time, tax revenue coming in would be able to pay about 78 percent of benefits.
• Social Security tax revenues will "slightly" fall below program costs in 2010. Tax revenues are projected to exceed program costs in 2012 through 2014, and then permanently fall below program costs in 2015 – one year sooner than the estimate in last year's report. The poorer outlook stems mainly from the recession's impact on the economy.
• Medicare's Hospital Insurance Trust Fund (also known as Medicare Part A) is now expected to remain solvent until 2029, 12 years longer than was projected last year, due to the health-care reforms. But the report notes that law means that "the projections are much more uncertain than normal, especially in the longer-range future."
---