Fatherhood, not marriage, is focus of Obama family policies
'Good fatherhood' initiatives are at the center of President Obama's family and welfare policies. It is a different approach than the one taken by the Bush administration, which focused more on promoting marriage.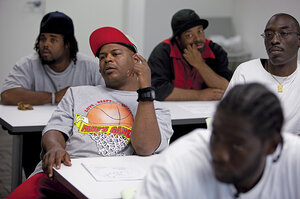 Melanie Stetson Freeman/Staff
On a recent Wednesday night, 20 men, most middle-aged and all African-American, sat facing a whiteboard with the words "honeymoon," "guilt," and "cheating" written on it.
"Why do you treat your mom different from your girlfriend?" a female instructor asked.
"It's respect," answered Russell White, who works two low-wage jobs to meet $150 a week in child-support payments.
"They should get the same amount of respect, shouldn't they?" the instructor challenged.
"They should," Mr. White nodded.
IN PICTURES: Scenes of fatherhood
This is a fatherhood class at the Center for Urban Families, a nonprofit in Baltimore. The center works with what its founder, Joseph Jones Jr., calls not deadbeat but "dead broke" dads, connecting them with services that help them become better fathers.
It has served 14,000 clients over 10 years, and it's now considered a national model for so-called "responsible fatherhood" programs – an area that the Obama administration has emphasized.
Indeed, the Obama administration's approach to welfare policy and family funds gives much attention to fatherhood-oriented programs like this one. But it hasn't been this way for long: The fatherhood emphasis may represent a shift from the Bush administration, which favored marriage programs. Supporters of marriage education are worried.
---