Will $600 million border bill help Obama sway GOP on immigration reform?
President Obama signed a $600 million border security bill Friday that pays for 1,000 new Border Patrol agents. Will it give him enough political capital for immigration reform?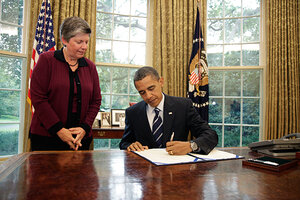 Carolyn Kaster/AP
President Obama signed a $600 million border protection bill Friday. Does that mean comprehensive immigration legislation has a better chance of passing?
That's the position the White House is pushing. The border legislation, which would pay for 1,000 new Border Patrol agents, and add other law enforcement personnel to investigate immigration violations, was enacted with substantial bipartisan support. Administration officials hope this will translate into hands-across-the-aisle cooperation on the larger issue of immigration reform.
"The resources made available through this legislation will build upon our successful efforts to protect communities along the Southwest border and across the country ... these steps will make an important difference as my administration continues to work with Congress toward bipartisan comprehensive immigration reform to secure our borders," said Obama in a statement issued Friday.
The administration's theory runs like this: by showing Obama is willing to take tougher measures on border law enforcement, the president should be able to sway some Republicans on aspects of immigration reform.
But that does not appear likely in a political environment in which conservative primary voters and "tea party" activists are pushing Republican candidates farther to the right prior to the mid-term elections.
In general, Republicans remain wary of any immigration effort that includes such provisions as a roadmap to citizenship for illegal immigrants currently in the country. The GOP calls that "amnesty," and they don't like it.
---