Why Ohio? Behind Obama's choice of Cleveland for jobs speech
It's no accident President Obama is delivering a major speech on economic recovery in Ohio, a struggling state that makes or breaks presidencies.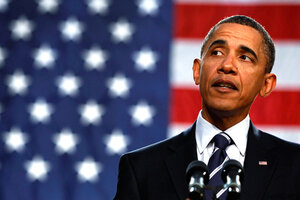 Larry Downing/Reuters
Ohio makes or breaks presidencies. That's one reason why President Obama picked Cleveland to unveil a new plan for economic recovery just 55 days before voters decide whether Democrats keep their majorities in the House and Senate.
He's also pointedly taking on House Republican leader John Boehner, who laid out the Republican alternative at a business forum here in Cleveland just two weeks ago. Vice President Biden has stumped in Toledo twice in as many weeks, including a speech at a Chrysler assembly plant on the administration's investments in the auto industry and a turn with embattled Gov. Ted Strickland (D) at the Labor Day parade on Monday.
If Democrats defy the polls and beat back a GOP surge in November, it will be because voters in places like Cleveland get as fired up for Democrats in 2010 as they were in 2008. Mr. Obama picked up 60,000 new Democratic votes in Cleveland's Cuyahoga County in 2008 and needs to energize these voters again in 2010.
---