Why the GOP can't steer the 'tea party' bandwagon
Despite various efforts to coopt 'tea party' momentum and energy for the mainstream GOP, elections continue to show that the movement has a mind of its own.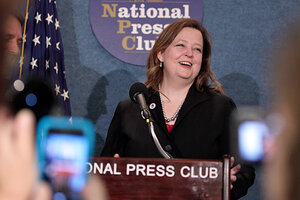 Carolyn Kaster/AP
John Burford represents perhaps the biggest force of this topsy-turvy election year: the "tea party" voter.
He's not thinking party. He's not thinking strategy. He's thinking about a single message he wants to send to Washington: You work for us. No one's political career is safe.
And so far, it appears that he and his tea party compatriots have stayed true to that ideal.
Like no other current grass-roots political movement, Mr. Burford and his fellow tea party folk represent a cornucopia of votes, all sitting there for the harvesting. Republicans have tried to do some of that harvesting, and a $1 million anonymous donation to the Tea Party Patriots announced Tuesday points to the attempt to convert that potential into ballots cast in November.
But recent primary results from Delaware to Alaska – where upstart, tea-party-backed candidates beat the Republican establishment candidates – continue to show that the tea party movement is not one easily guided. For November and beyond, the results suggest that the voters who sympathize with the tea party – even if they help Republicans take the House or Senate this November – can't be expected to act like GOP team players.
---