Election 2010 all about tea party? It's more: It's year of the outsider.
The tea party has energized Republicans, even if it also complicates life for the GOP after Nov. 2. But the movement is actually part of a larger Election 2010 trend -- one that features the most diverse GOP field in history.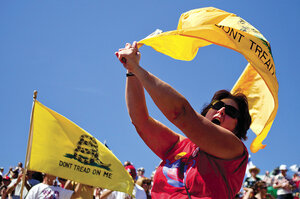 Whitney Curtis/AP
Rick Scott hardly seems the slick, glad-handing politician that voters are used to. He speaks softly, almost mumbling, as he lays out his plan for taxes and insurance at a recent town-hall meeting at the swanky Biltmore Hotel in Coral Gables, Fla. Mr. Scott, a former health-care chief executive, is new to politics. He is very rich and very conservative – tea party conservative. And he may be the next governor of Florida.
Most surprising to longtime observers of Florida politics is that Scott seemed to appear out of nowhere. The state has its share of wealthy businessmen, but Scott was not part of that social milieu. "It's almost like he landed from Mars with all this money. Next thing you know, he wins the Republican primary," says Brad Coker, president of Mason Dixon polling, who is based in Jacksonville, Fla.
The 2010 election cycle will be most remembered for the birth and rapid rise of the low-tax, limited-government tea party movement, which has energized frustrated conservatives nationwide heading into the Nov. 2 midterms, mostly to the Republican Party's benefit. But the tea party is actually part of the larger trend of this election: the rise of the outsider.
VIDEO: Voices of the tea party
---