Will Obama take lead on national debt and budget deficit?
Commission's draft proposal on cuts and taxes to slash national debt has riled partisans on both sides. Next major move is President Obama's.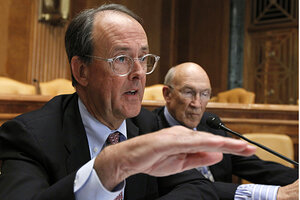 Alex Brandon/AP
"This huge debt that we face is something we can't deny."
So declares Erskine Bowles, Democratic co-chair of the bipartisan debt commission appointed by President Obama to address the nation's unsustainable fiscal path, speaking at a Monitor breakfast Nov. 19.
Indeed, ideas for addressing Wash­ington's off-kilter balance sheet have become all the rage.
Mr. Bowles and his Republican co-chair, former Sen. Alan Simpson, put out a draft proposal Nov. 10 that elicited fierce squawks from liberals and conservatives alike – but also some praise from interest groups for at least launching the conversation.
A week later another bipartisan group, chaired by former Clinton budget chief Alice Rivlin and former Senate Budget Committee chair Pete Domenici (R), came out with an even tougher proposal.
Add to the mix new Republican fervor for eliminating congressional earmarks, pet projects of lawmakers. Mr. Obama and a few Democrats have backed the idea, though the potential savings amount to a fraction of 1 percent of federal spending – and there's no guarantee the executive branch doesn't spend the money.
---