Tom DeLay: How his crowning moment became a money laundering conviction
Tom DeLay, a former GOP House majority leader, was instrumental in the GOP taking the Texas Legislature in 2002 for the first time since Reconstruction. But one of his contributions to the cause was illegally laundered money, a jury ruled Wednesday.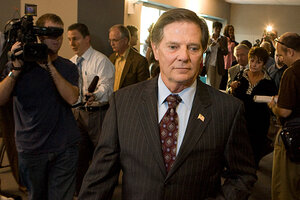 Larry Kolvoord/Austin American-Statesman/AP
After nearly half a decade of legal proceedings, former US House majority leader Tom DeLay was convicted today in a Texas court of money laundering and conspiracy related to a 1903 Texas law that bans corporate contributions to state political campaigns.
At issue was some $190,000 in corporate contributions to Mr. DeLay's political action committee that prosecutors said was illegally passed on to GOP state candidates in 2002, helping Republicans gain control of the state legislature for the first time since Reconstruction.
The jury deliberated 19 hours before reaching a guilty verdict that carries a penalty ranging from seven years to 20 years for the conspiracy charge to life in prison for criminal money laundering. DeLay said that he plans to appeal the conviction.
A force in the GOP rise to power both in Texas and the US House of Representatives, DeLay won his nickname, "the Hammer," for his rigid enforcement of party discipline. His ties with Washington lobbyists drew criticism from public interest groups as well as four warnings from the House ethics panel over issues ranging from threatening a trade association that failed to hire a Republican as its president to accepting expensive gifts and trips in violation of House rules.
For several years, DeLay's 2002 bid to help Republicans gain control of the Texas Legislature was widely viewed as his crowning triumph. The new Republican majority quickly drew up a new redistricting map favorable to Republicans.
In fact, DeLay was so entwined in the Texas legislative power struggle that he asked the Federal Aviation Administration to track a plane believed to be carrying Texas Democrats escaping the state to avoid a quorum call for a vote on the GOP redistricting plan – a move that also drew a warning for DeLay from the House ethics panel.
---