Fewer bad eggs? Food safety bill is revived, heads to Obama's desk
Landmark food safety bill, all but dead because its funding was tied to the ill-fated omnibus spending bill, was revived by the Senate Sunday. Obama is expected to sign it by Christmas.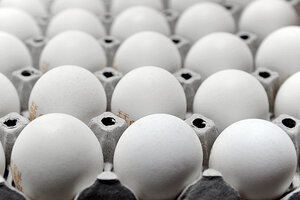 Newscom
A landmark food safety bill that aims to modernize America's food inspection regimen appeared destined for the ash heap until the Senate rejuvenated it Sunday in one of the last acts of a busy lame-duck Congress.
The Senate approved the food bill Nov. 30, but a procedural mistake meant that its funding was tied to a now-scuttled omnibus spending bill. Without a funding mechanism in place by the time the new Congress takes its seat in January, the food safety law -- the first major upgrade in the US inspections process in 70 years – would be a nonstarter.
Food safety advocates say they knew ultimate passage of the Food Safety and Modernization Act could go down to the wire given grumblings that it amounts to an unnecessary expansion of federal powers to regulate what goes on the American kitchen table.
Critics of the law, which establishes a new federal inspection regimen for 50,000 food production facilities and which for the first time gives Washington authority to issue food recalls, say it pits corporate food manufacturers against small farmers and food companies that may fold under stricter regulation. That would leave consumers with fewer, and not necessarily safer, choices, they say.
Though the measure had bipartisan support, some conservative critics worry that the US Food and Drug Administration (FDA) will get "trigger happy" with its recall powers, and use its authority in ways that will favor corporate farms and manufacturers. But amendments to the final bill exempted companies with less than $500,000 in revenue and companies that sell their goods only within 250 miles of the plant, easing much of the concern that mom-and-pop enterprises would bear the brunt of the law.
---