With new oversight powers, House GOP aims to put Obama on defensive
Obama has faced little congressional oversight so far, but with House GOP probing into policies ranging from illegal immigration to health care, the president's oversight holiday may be over.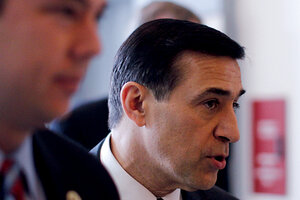 AP
With Republicans taking up gavels in the House, a season of inquiry is opening on Capitol Hill, putting the Obama administration on defense through the 2012 elections.
To date, the Obama administration has faced relatively little congressional oversight. During the past two years, the House Oversight and Government Reform panel has held 197 oversight hearings. But that will change now that Republicans have control. Incoming oversight committee chair Rep. Darrell Issa (R) of California plans 280 hearings this year alone – and counting.
With the White House and the Democrat-controlled Senate still able to stymie GOP legislation coming from the House, investigations might be one of the most potent ways for House Republicans to leave their mark on this Congress. Committee chairs have broad powers to investigate – and Republican leaders are encouraging them to do so.
New probes will emerge from many committees and on a range of topics, from the actions of the Federal Reserve during the financial meltdown to enforcement of illegal-immigrant laws to how the administration is implementing sweeping health-care and financial reforms passed by Democrats last year.
---