Will Gov. Jerry Brown's California budget run into legal roadblock?
Governor Jerry Brown might need two-thirds of the California legislature to support $12.5 billion in spending cuts – and that's just the first step towards his balanced budget.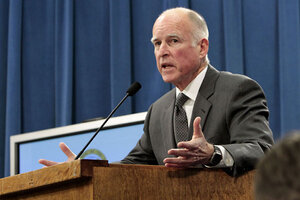 Rich Pedroncelli / AP
California Gov. Jerry Brown's bold bid to fix California's chronic budget woes could find itself at the mercy of a procedural roadblock.
That was the analysis of Mac Taylor, state legislative analyst, who suggested that Governor Brown's multipronged scheme to cut spending and boost revenues might run afoul of a ballot initiative that, ironically, was intended to make passing budgets easier.
If correct, Mr. Taylor's interpretation of Proposition 25 would require two-thirds of the legislature to pass Brown's $12.5 billion in spending cuts, instead of a simple majority.
Brown's office says it is not concerned, and other analysts say he can find a way around the problem if needed. But for Brown, elected on the promise of avoiding "smoke and mirrors," any potential end run around a procedural hurdle might send the wrong message.
"His whole pitch has been 'no more smoke and mirrors … let's not play games,' so while they may be able to get around this legal hurdle, I don't think he's going to," says Barbara O'Connor, director of the Institute for Study of Politics and Media at California State University, Sacramento.
In short, the problem is this: Brown's budget plan is so ambitious that he wants to break it up into three interrelated parts. First, the legislature would pass spending cuts, then voters would vote in a special election to extend certain tax rates, and last the legislature would pass a final state budget.
Prop. 25, passed in November, was supposed to help. It allows California to pass its budgets with a simple majority. Previously, two-thirds of each house of the legislature needed to approve a budget.
Now, however, Mr. Taylor says that Prop. 25 might not apply to the first part of Brown's gambit, the spending cuts. Prop. 25, he suggests, applies only to the final state budget vote.
---