US will no longer defend Defense of Marriage Act in court
The president and attorney general conclude the 1996 Defense of Marriage Act unconstitutionally discriminates against same-sex married couples. Decision is a major policy shift on gay rights.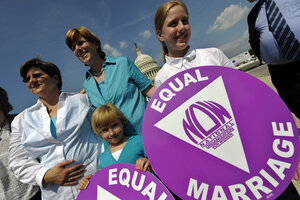 AFP PHOTO/Jewel SAMAD/Newscom
In a major policy shift on gay rights, the Obama administration announced on Wednesday that it would no longer defend the constitutionality of the Defense of Marriage Act in cases pending in federal court.
Attorney General Eric Holder made the announcement in a written statement and in a letter sent to House Speaker John Boehner.
It said both he and President Obama had concluded that the Defense of Marriage Act (DOMA) unconstitutionally discriminates against same-sex couples who are in marriages that are legally recognized by their state governments.
How much do you know about the US Constitution? A quiz.
"The president has instructed the [Justice] Department not to defend the statute in such cases," Mr. Holder said in his statement. "I fully concur with the president's determination."
Speaker Boehner responded through a spokesman, questioning the timing of the announcement.
"While Americans want Washington to focus on creating jobs and cutting spending, the president will have to explain why he thinks now is the appropriate time to stir up a controversial issue that sharply divides the nation," said Boehner spokesman Michael Steel.
Gay and lesbian married couples have filed lawsuits challenging the constitutionality of DOMA provisions that block same-sex married couples from receiving the same federal benefits and protections available to heterosexual married couples.
---
Follow Stories Like This
Get the Monitor stories you care about delivered to your inbox.