House Republicans propose new budget deadline, again: April 8
With the House and Senate no closer to agreeing on a federal budget – already five months overdue – House Republicans suggest moving back the deadline for a sixth time.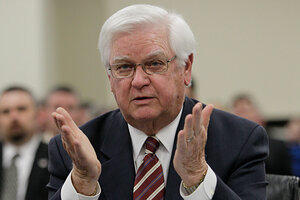 Ed Reinke/AP/File
The House Appropriations Committee on Friday released a $6 billion stopgap measure to fund government through April 8 – the sixth such continuing resolution since the fiscal year began on Oct. 1.
Like the previous short-term funding measure, which runs through March 18, the proposal includes many programs already slated for cuts in President Obama's budget for the next fiscal year, resulting in savings of $3.5 billion. It also eliminates $2.6 billion in funding for member projects or earmarks, which would otherwise be automatically renewed.
But criticism on both sides of the aisle: support for interim measures is running low.
In a bid to reach a quick agreement with the Senate, the proposal avoids controversial policy additions, such as defunding implementation of health-care reform or ending federal support for Planned Parenthood.
Shutdown 'not an option'
"A government shutdown is not an option, period," said Appropriations chair Rep. Hal Rogers (R) of Kentucky in a statement. "While short-term funding measures are not the preferable way to fund the government, we must maintain critical programs and services for the American people until Congress comes to a final, long-term solution."
---