Obama about to launch his reelection campaign. It could cost $1 billion.
President Obama is expected to officially launch his 2012 presidential reelection campaign this week. The organization is forming up in Chicago, and it could spend as much as $1 billion.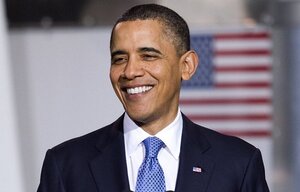 Evan Vucci/AP
Is anybody surprised that Barack Obama will run for reelection next year? Of course not.
For months, Republican presidential hopefuls have been angling toward challenging him next year, and he's the man to beat. And given how well organized his campaign was in 2008 (not to mention the wake-up his 2010 midterm shellacking provided), you can be sure the last run in his political life will be just as efficient and even better financed.
The fact that Obama will make it official this week starts the clock ticking toward November 6, 2012 – a mere 583 days from now.
As soon as Monday, he's expected to file papers with the Federal Election Commission for a campaign operation now forming in Chicago.
"Former West Wing staffer Jim Messina, Obama's likely campaign manager, has been holding donor meetings around the country, and the president is scheduled to hold a series of fundraisers in New York and California over the next few weeks," reports Politico.com. "The campaign is expected to raise $750 million to $1 billion."
---