Global warming: Congress set to decide if EPA can regulate greenhouse gases
The House and Senate both vote Wednesday on whether to curtail or delay EPA power to regulate greenhouse-gas emissions. The agency plans to issue emissions standards in 2012.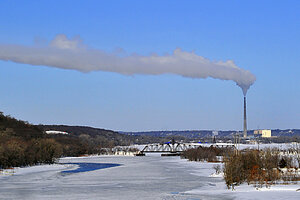 Karen Bleier/AFP/Newscom/File
After months of political gyrations and jawboning, both houses of Congress are expected to vote Wednesday on measures to limit, or block altogether, the ability of the US Environmental Protection Agency to regulate greenhouse gas emissions.
Driving the issue is the real likelihood that the EPA will next year, for the first time, issue emission standards to curb greenhouse gases from large industrial smokestacks.
Last year the Senate declined to vote on comprehensive climate-energy legislation, despite the threat that not doing so would prompt the EPA to proceed, via regulation, to curb carbon dioxide and certain other emissions from power plants and other industrial facilities, such as cement plants, factories, and refineries. EPA administrator Lisa Jackson has proceeded to do exactly that. [Editor's note: The original version has been changed to correct Ms. Jackson's name.]
Arguments for stripping EPA of such power are that the new rules would hammer the economy and would lead to requirements that even places such as churches and office buildings must obtain EPA emissions permits – something the EPA has denied.
The EPA, through its "tailoring rule," has exempted from forthcoming rules smaller sources of greenhouse-gas emissions, focusing instead on large emitters. Under current agency plans, the greenhouse-gas reporting requirement applies to about 10,000 facilities responsible for an estimated 85 to 90 percent of total US emissions. Most small businesses fall below the 25,000-metric-ton annual threshold and will not be required to report such emissions.
---