Deficit reduction: Why it's smart for Obama to jump in late
President Obama will lay out his 'vision' for deficit reduction Wednesday, a week after the GOP released a 2012 budget proposing big cuts. He is well positioned to occupy the middle ground.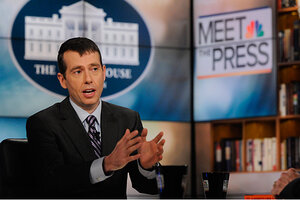 William B. Plowman/NBC/AP
President Obama's speech Wednesday laying out a plan for deficit reduction answers a long-burning question: When will the president join the debate on how to avoid a national fiscal train wreck?
But don't necessarily expect to hear specifics on deficit reduction. Indeed, White House officials have said that he will lay out a "vision" but won't go into a lot of detail. Still, Mr. Obama will at least create the appearance that he has joined the debate, following the release last December of his bipartisan fiscal commission's plan and then more recently, the GOP budget proposal for fiscal 2012 by Rep. Paul Ryan (R) of Wisconsin, chairman of the House Budget Committee.
Obama's own 2012 budget, released in February, skirted the issue of unsustainable entitlement spending – foremost, on Medicare and Medicaid – and led to a drumbeat of questions over when the president would take up the issue. But even if Obama's numbers on the two big medical entitlements are "to be determined," he now has plenty to talk about: Chairman Ryan's plan, which quietly passed his committee last week.
---