New Internet privacy bill: How would it protect consumers?
Legislation proposed Tuesday would require companies to notify users before data is collected and allow users to change the collected data or opt-out entirely.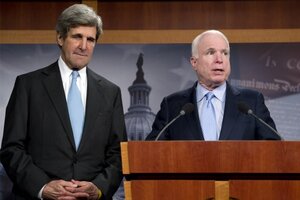 Scott J. Ferrell/Congressional Quarterly
Online companies must be more transparent about how they share user data and must give consumers more control over that data, says a new bill introduced by Sens. John Kerry (D) of Massachusetts and John McCain (R) of Arizona on Tuesday.
If passed, the legislation could have big implications for both the $25 billion-a-year digital advertising industry and online privacy advocates.
"Americans have a right to decide how their information is collected, used, and distributed," said Mr. Kerry in a statement he and Mr. McCain released Tuesday.
The bill, known as the Commercial Privacy Bill of Rights Act of 2011, would require notification of users before any data is collected, and give them the chance to opt-out of data collection. To the disappointment of some privacy advocates, there would be no single opt-out list like the National Do Not Call Registry. Rather, privacy-conscious consumers would need to opt-out of each app and website individually.
---